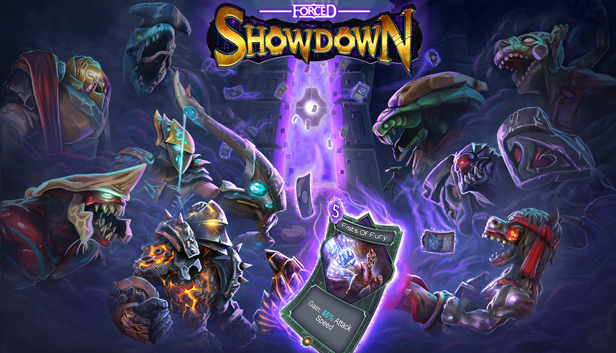 Description
Action and deck-building are combined in a Galactic Game Show - but questions gets replaced with deadly Gladiator Battles! You are the contestant - will you die or become a crowd favorite?
History
The Drone Invasion - The first expansion for SHOWDOWN was released in July 2016 bringing a new character, boss, game mode, modifiers and much more to the show.
Features
4 characters with unique attacks and ability sets + unique cards to mutate and upgrade their abilities. (+1 with the Drone Invasion expansion)
Deck-Building with 150+ cards to unlock and use in your deckbuilding. (all in-game; no microtransactions!)
60+ quests unlock content and achievements.
Fight in 8 different worlds.
Encounter 70+ different enemies.
Bonus levels (added in free content update 43)
Emblem System: Unlock mastery emblems (added in free content update 42)
---
Videos
Official Forced Showdown Release Trailer YouTube
Forced Showdown Drone Invasion Expansion Release Trailer YouTube
---
Images
download all screenshots & photos as .zip (12MB)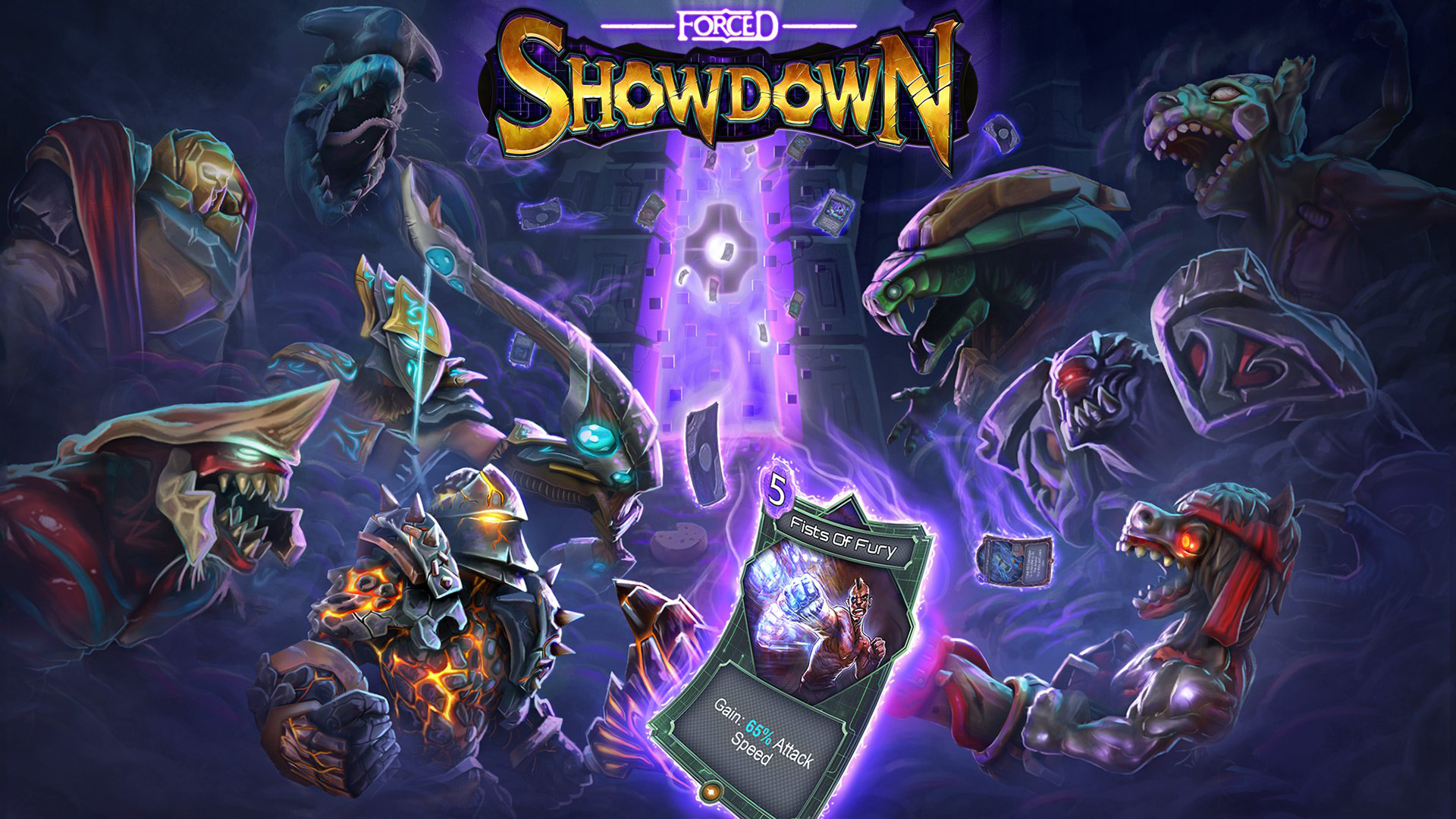 ---
Logo & Icon
download logo files as .zip (18MB)
There are currently no logos or icons available for FORCED SHOWDOWN. Check back later for more or contact us for specific requests!
---
Awards & Recognition
"Best Game with 3D Graphics - Intel Level Up 2014" 11 March 2014
"Indie Game Award - MomoCon 2016" 25 May 2016
---
---
Selected Articles
---
Additional Links
Various Promo Art
Find additional promo art here https:.
FORCED SHOWDOWN
Official FORCED SHOWDOWN Steam page http:.
Betadwarf YouTube channel
Features FORCED SHOWDOWN related Videos http:.
Community Leveling
Sign up to get FREE Steam Keys with DLC http:.
Keymailer.co
Request FORCED SHOWDOWN Key https:.
---
About BetaDwarf Entertainment
Boilerplate
BetaDwarf started with a group of people squatting in a University classroom for 7 months until that day came where they were discovered and thrown out.. Luckily they found a house and lived together for 3 years, while completing a Kickstarter campaign, taking a private bank loan and ultimately releasing their first game FORCED. See that popular imgur picture story here.

The ambitious team from Denmark/Copenhagen has since then made Forced Showdown, been joined by the glorious London Venture Partners and is now fully focused on making Minion Masters - the best real time card game with co-op on PC and Console.

Targeting core gamers, BetaDwarf is doing free-to-play the fun way - and the way they'd like to play it, they are also playing Minion Masters daily, so you might find a match with them.
More information
More information on BetaDwarf Entertainment, our logo & relevant media are available here.
---
FORCED SHOWDOWN Credits
Steffen Kabbelgaard
CEO, Game Director
Kenneth Harder
Lead Programmer
Kristian Klie
Gameplay Programmer
Alex Jørgensen
Animator
Peter Buje
Lead Game Designer
Kristian Romer
Sound Designer / Audio Director
Christoffer Greulich
Producer
Alexander Karlsson
Technical Artist
Martin Prestegaard Lehnsdal
3D Artist
Stefan Greulich
Art Director
Ejnar Haakonsen
Game Designer
Richard Peck
Programmer
Björn Trollmo Rogetzky
Graphics Programmer
Mona Skoog
3D Artist
Silas Amdi
2D Artist - Card Illustrator
Alexander Kramerov
3D Artist - Card Illustrator
Contact
---
presskit() by Rami Ismail (Vlambeer) - also thanks to these fine folks